The Glassycops are the one of Mixels OC's created by MixelsFloras. They really care about law and serious about their jobs to securing and conquest of evil in the Mixels Land. Even so, they still have fun personalities. There are black, white, grey and transparent in colour.
Members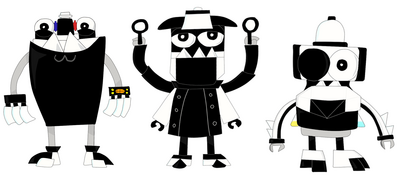 Traffop  - Siren head leader and also the traffic police with a little crazy mind but with a correct behavior.
Detecto - Serious one with a great detective skill, His extra rear hand and magnifier can be used to solve the cases.
Forsic - Forensic and tech expert, high focus Mixels who help the other members.
Relationships
Eachother
they are very familiar with each other and always compact in solving problems.
Infernites
The Glassycops likes Flain because he always respect with the rules, Traffop does't like zorch because he always running at high speed over the limit, and the rest is neutral.
Cragsters
Sometimes Forsic likes to walking in Mine with Shuff.
Electroids
Detecto always help the Electroids for Hamlogna sandwich case.
Frosticons
Neutral
Fang Gang
Neutral
Flexers
The Kraw and Balk likes to hear about Detecto cases stories.
Glorp Corp
Neutral
Spikels
Traffop likes to hang out with Hoogi or Footi.
Wiztastic
Traffop enjoying the Wiztastic show because he considers as a comedy show not a magic show, Detecto and forsic dislike the magic show.
Orbitonz
The Orbitonz are not released on the TV Series yet.
Glowkies
The Glowkies are not released on the TV Series yet.
Trivia
Their leader is Traffop
they are based upon element of glass and police theme.
They live in the police station.
Each them have a job.

Traffop have job to keep the Mixels land road traffic and arresting violator of the rules.
Detecto must solve difficult cases unsolved.
Forsic work is to analize for Detecto and getting information for Traffop in his Laboratory.

They can really get hyperactive when eating lot of cronuts.
Despite working, they can still be hang out with the other mixels to play.
Warning ! This page has been created by MixelsFloras Aka MF.

Please ask permissions with the creator if you want to edit and be a nice person..